Back at Microsoft, I always had several mentors (coaches, mentors, successful peers) guiding me in my career journey.
Mentors and coaches helped me survive when I just started TreDigital and had no idea how to run a business on my own.
Great mentors thrive on working with people.  Their advice literally changes lives.
But very few grow their influence beyond their immediate network. They simply do not know how to get in front of more people.
As a result, they either
a) get "stuck" at their local level.
OR
b) they invest a lot of money (and time) into busy work that does not generate results.
Sadly, these mistakes stop coaches from creating a bigger impact and lead to lost revenue potential.
If you are looking to expand your online brand, learn to avoid these 3 critical mistakes most coaches and consultants make.
Most importantly learn, what you can do instead.
1 – Focusing on The Wrong Priorities
(FIX: Test Before You Build)
You've been told that you need to invest time into branding, logo, website, messaging, content (and the list goes on).
These are ALL incredibly important to creating specific feel about your brand.
But, there is a HUGE "but"…
Standalone branding and content strategy do not help.
These are an especially low priority if you are just starting your company or launching a new offer.
You may have an idea who your audience is, but you do not know for sure whether you are correct. Instead focus on answering these questions:
Are your potential customers able, willing, and ready to buy? All three are critical to your success.
Does the message you have in mind move them to click, opt-in, purchase, come back?
Before you spend thousands of dollars on branding and logo your best next step is to test your assumptions about messaging and audiences.
Testing does not have to be fancy or expensive.
Contrary to the popular belief, less than a perfect landing page with a starter logo won't hurt your brand either. (In fact, it frequently outperforms a fancy and expensive website).
Creating a starter landing page will help you get crystal clear on the exact audience that is interested in your offer AND the marketing "hooks" that move that audience.
Once you see people regularly (and predictably) opting into your offer, you are ready to invest into that fancy website. Until that time, hold off on hiring a web designer.
So how do you fix this?
Google and Facebook ads are a perfect, low-cost way to test your assumptions.
Start with a simple ad campaign targeting 5-7 different audiences and show a few different messages to them. After a few days, you will start to see the clear winners.
Direct them to the landing page (via remarketing campaigns) and see if they start to opt-into your offer. Which can be as simple as pre-order or joining a mailing list.
You can learn the exact steps we use to test audiences and messages via Facebook ads here.
Testing is even more effective BEFORE your offer is fully ready. Therefore, do not put it off waiting until everything is perfect.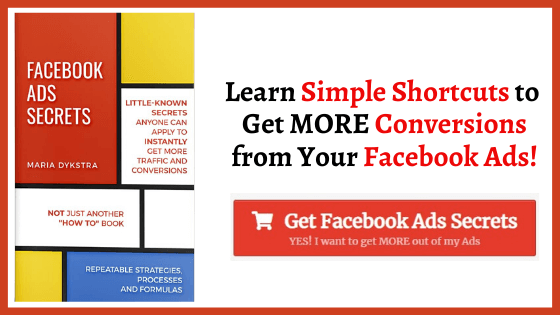 2 – Choosing Content vs. Promotion
(FIX: Create the RIGHT Content: Quality Over Quantity)
Some "gurus" will tell you that creating content is a waste of time. Others will swear by daily content creation.
So what do YOU do?
In reality, it all comes down to the definition of "content".
Content is everything:
A Facebook post you put on your own wall
A link to a great article you shared in a closed Facebook group
A tweet you sent out in response to someone
A presentation you created for a client proposal
A quick video you recorded for the upcoming keynote talk
The common misperception is that you must write 1200 words of unique content. Blogging is a daunting task, especially, if you are unclear of your message.
In reality, content curation (i.e. promoting someone else's message) can be just as effective as creating unique content.
In fact, it is frequently even more effective than blogging without a purpose or a promotional strategy.
So how do you fix this?
Accept that Content and Promotion are inter-dependent. In fact, promotion comes first.
Before writing another piece of content, invest some time into planning:
If you are comfortable creating long-form content, invest your time into a Content Strategy. The secret to creating a successful content strategy is in balancing research with writing and promotion.
If you already have a lot of existing blogs, learn how to generate more views for your existing content.
Alternatively, think of a content format that suits you better:
Are you great at asking questions and could create a killer podcast interviewing other experts?
Do you love jumping on video and talking to the audience via Facebook Live?
Is summarizing top trends your strength?
Remember, content curation is also an option for creating your marketing platform.
3 – Marketing on Many Channels at Once
(Fix: Master One First. Scale to Others Later)
It is so tempting to be do everything at once.
Become a social media guru "omnipresent" on every single social media network
Master email marketing with 120-email sequence customized to every customer niche
Build a comprehensive content strategy that is SEO-optimized and brings constant traffic to your site
Launch a successful ad campaign that brings hundreds of qualified leads to your website daily.
You will get there… eventually…
Doing it all at once will only result in overwhelm and burn out.
I am not saying just focus on one Marketing channel and completely ignore all other ones.
Rather, I am saying that it is important to find ONE channel that will become your "money maker". This channel will become your primary focus, you will give it 90% of your attention, while the other channels will be playing a supporting role.
So how do you fix this?
Start small!
Pick one channel. Make it work for you.
Not just learn about it: own it, master it!
Once you know what the profitable channel is, set it on auto-pilot and start growing other channels.
But where do you start?
Create content that fits your style and feels authentic (remember, content is more than blogs)
Learn simple steps towards mastering social media and content promotion. Facebook can be an easy place for you with organic content and building your thought leadership brand.
Launch your first Facebook ad campaign to build some awareness and visibility for your brand (Download Facebook ad campaign setup cheatsheet here).
Experiment with creating simple videos using some of the FREE or low-cost tools. Another easy-to-use and very effective marketing tactic is Instagram Stories.
Conclusion:
Growing your online brand is not rocket science. It does, however, require some prioritization and patience. Instead of going "all in", test different approaches, notice what works, and then invest time and effort into winning a combination of marketing tactics.