Facebook keeps delighting us with new ad types and features.  But with so many changes happening, it is hard to keep track of the essentials.
This means that many new Facebook features get overlooked or underutilized. In this post, we've summarized some of the top features for you to test.
Instagram and Facebook Story Ads 
Creating an Instagram Story Ad is very similar to creating a regular Facebook Ad. You just need to make sure that your Instagram page is connected to Facebook.
Within Ad Manager select Instagram Stories as a placement for your ad. You can use the same audiences and bidding strategies you would use on your Facebook Ads.
In our experiments with Instagram Stories Ads, the Cost Per Click is typically 1/2 of the regular Facebook Ads. Making it a very effective ad placement, especially for eCommerce.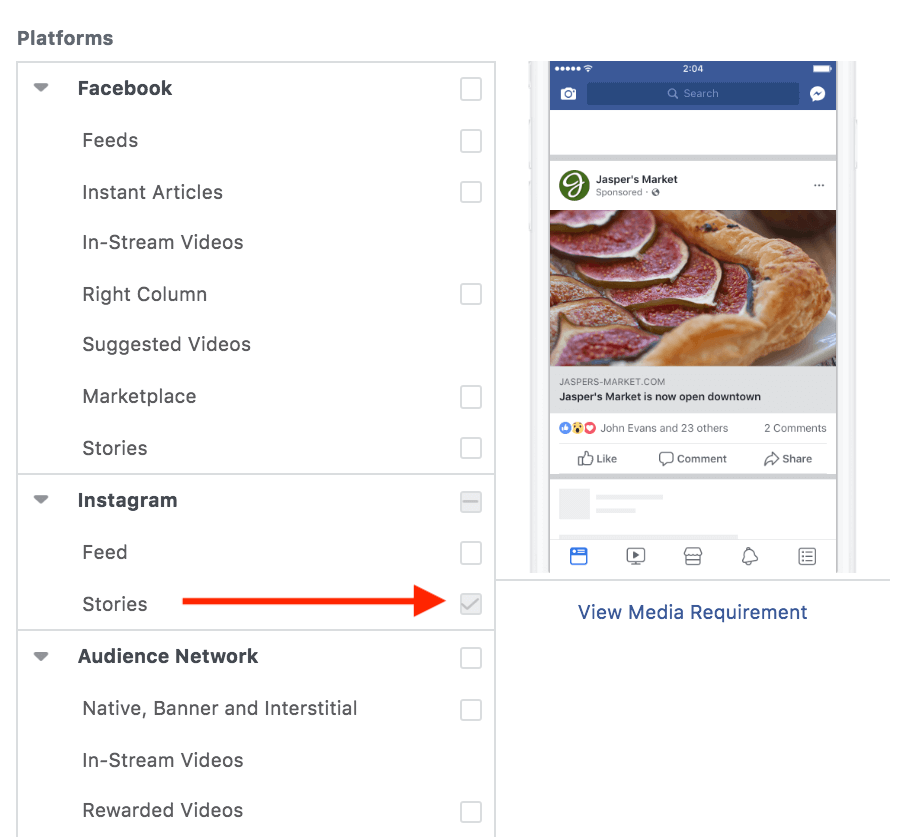 Similarly, Facebook Story Ad is quite simple to create. Select, Facebook Story as a Placement or add Facebook Story placement to the standard Facebook Campaign. Facebook Story ads are not as effective as Instagram stories as fewer people are watching Facebook stories. But we saw it quickly grow in popularity.
Therefore, it may be a great ad type for you to test.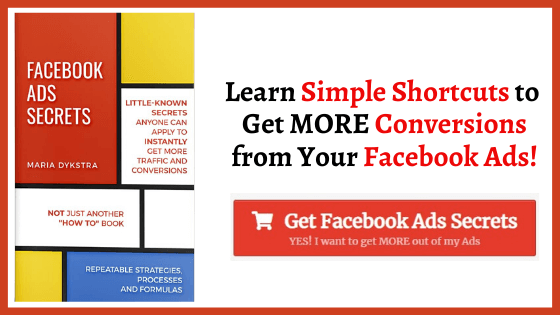 Facebook Lead Ads
Facebook Lead Ads allow advertisers to collect lead data directly through a form.
To start a Lead Ad, you must first create a new campaign with the "Lead Generation" objective.
Building your lead ad campaign is fairly similar to the other campaigns. The main difference is that you have to create a lead form, choose questions you'd like to add, link your privacy policy, add your disclaimer and destination URL. You can customize your form with your branding.
Once the form is created, you're ready to get started with Facebook's most powerful lead generation tool.
The advantage of the Facebook Lead ad is the ease of collecting data. All your potential leads need to do is to auto-populate form with their contact information. The drawback is that the quality of the leads is somewhat low.
Test it for your business to see if Lead Ads are right for you.
Video Ad Templates
Facebook has really been pushing visual content and storytelling via their Ads. Carousel Ads,  Instant Experiences (formerly known as Canvas ads),  different video templates. These are just some of the examples of Facebook's investment into a video.
Video ads are perfect for showcasing the features of a product you sell and your brand or highlighting a promotion you're running. If you are in eCommerce, video ads are a must have.
In addition to many free or low-cost video tools, you now have several options for Do-It-Yourself video creations built-into Facebook.
First, most of the ads you create can be turned into a video by simply choosing one of the pre-existing video templates. You can select square or vertical format (vertical is a preferred format for Facebook and Instagram stories and all mobile devices).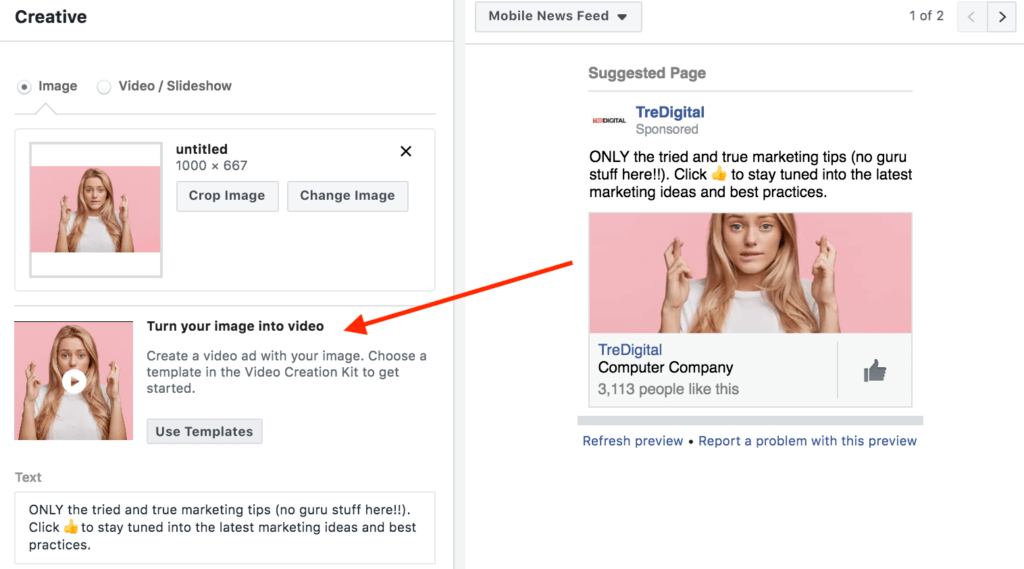 Slideshow ads are fantastic for ecommerce brands. Facebook gives you an option to leverage up to 10 images or videos to assemble a slide-show ad. You can add individual headlines, links, and a call to action for each piece of media.
Reporting, Reporting, Reporting
Reporting has changed quite a bit in the last year. Many old metrics have been removed and new measures have been added.
One of the most important (and frequently overlooked) parts of reporting is the 'Breakdown' section. Here, you can find out if your mobile placements are converting, what age group has the strongest CPA, what regions are not converting, and what genders are most responsive to your adverts.
If you are looking at breakdowns via Ad Manager, the data may become overwhelming. Download the reports, so you can effectively analyze the granular level of detail in Excel.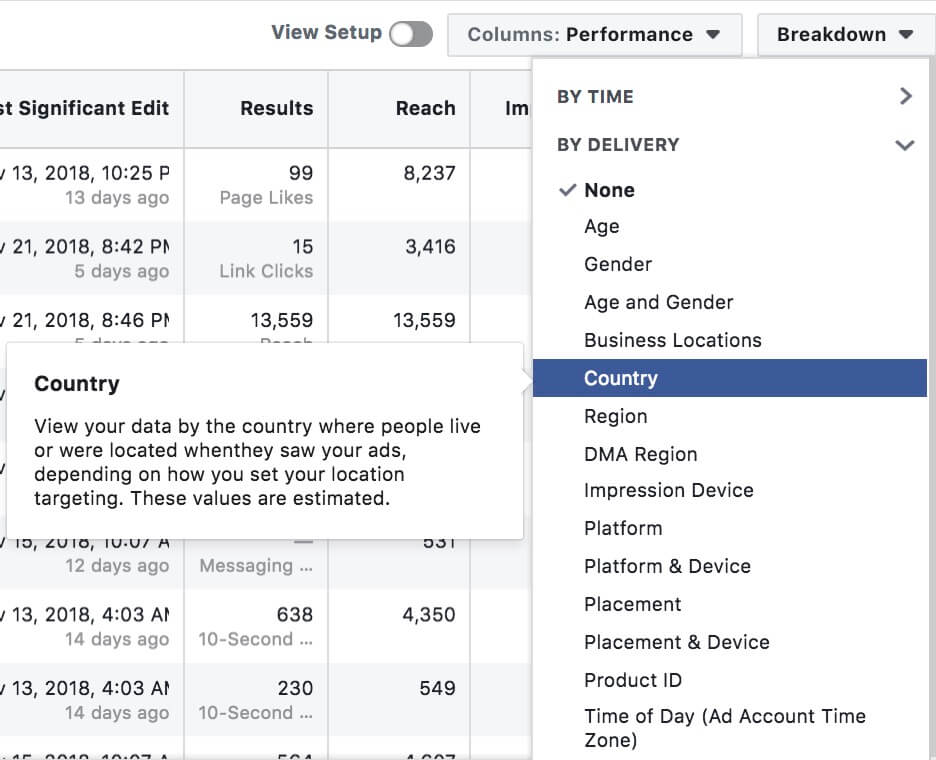 Attribution Models
Even with the most granular level of reporting, Facebook ads frequently do not get all of the credit they deserve. Many of the clicks and conversions happen long after the first exposure.
Understanding Facebook's attribution model is important. It will help you to know where to change the view and what makes sense for your conversion goal. Luckily, Facebook just released a new Attribution tool. 
It captures the results of each conversion, specific to the time frame after an interaction with your advert happens and the method of the interaction. This new tool helps you assign conversion credit to actions that came as a result of your Facebook ads across all different platforms. It also includes online and offline activity.
If you had difficulties articulating how Facebook ads help your business, playing with the attribution model may help you get some answers.
Lookalike Audiences
Custom Audiences and Lookalike audiences are some of the most effective targeting methods.
Facebook has an amazing matching algorithm. It helps you find the audience of users who are similar to your current customers or audience. Facebook matches these users with Facebook profiles then finds similarities in demographics, interests, behaviors, and the likes.
Figuring out who to target on your next Facebook ad campaign can be challenging. By allowing Facebook to find the right audiences for you, you are improving the effectiveness of your ad campaign.
Experiment by taking a list of your existing customers and loading them to Facebook to create your first Custom Audience. You can then use that list to create a Lookalike audience of people who are similar to your customers. You can also segment that list by different categories: highest spenders, buyers interested in specific topics, etc.
Campaign-Level Optimization 
Optimizing campaigns is a big undertaking. Keeping track of individual ad sets and their performance can take a lot of time. It is especially challenging if you are not a data wiz.
By introducing campaign-level optimization, Facebook took some of that burden off of your plate. This feature is particularly helpful if you are in the testing phase and have many different audiences and messaging combinations to compare.
To create a campaign-level optimized ad, simply select the Optimization radio button and let Facebook do its job of finding the best performing ad sets for you.

Facebook Pixel
Facebook pixel allows you to measure conversions, optimize your ads and targeting, and gain insights about the Facebook users who visit your website.
Without it, you will not make full use of Facebook's remarketing and lookalike audience features.
To use implement the Facebook pixel, simply go to Ads Manager, create a pixel, name it, create it, copy the code onto your web pages to start tracking actions, and you're done. Now that you've implemented Facebook Pixel, you can track the actions people take like viewing your content, adding items to the shopping cart or making a purchase. Using these insights to move customers forward and discover new users with similar traits to your existing customers that you can then advertise to as well.
Once you've implemented Facebook pixel, it's time to start running website conversion campaigns to get people to take a specific on-site or in-app action after viewing your ad.
Conclusion:
There are many new features can make a significant positive impact on the profitability of your Facebook ad campaign. Experiment with some of the features and ad types we mention in the article. Not all of them will work for you, but you will not know until you try. We'd love to hear your feedback on things that did or did not work. Also, if you are tired of DIY advertising, schedule a FREE intro strategy call to see how we can help.