(Tried and True Methods with a Modern Twist)
Getting leads may seem daunting, but it does not need to be.
It may feel like you will need a lot of time, money, and effort. However, the strategy is quite simple and linear:
For any business to succeed, you need to make sales.
To make sales, you need to generate leads.
Each company may be different, but in our experience, one or two of the strategies below will help you find your strategy to capitalize on.

1 – Optimize Your Website for Conversions.
Your website is the face of your company. It is a perfect opportunity to create a first impression online and to establish your online reputation.
It is THE marketer of your brand, as well as its products and services.
All of the most critical information about what you do and who you serve as ways to contact you are critical for the customers to see on your website.
If you are serious about generating leads online, make your website more than a "digital marketing brochure".
How to generate more leads from your website.
A) Make your website easy to navigate. Remove unnecessary links from the website menu. Put the most important ones front and center. In 95% of cases simplified landing pages will serve you better than a complex website.
B) Ensure that your website is optimized for all devices (especially mobile). Check Google Analytics to learn what type of devices your web visitors are using.
C) Place your contact information all on one page. Integrate with the messenger bots to engage users into a conversation immediately after they land on your website.
D) Give your web visitors a change to test your services (via a free trial or a low-cost offering)
E) Create website sequences by guiding visitors to the next stage in the funnel. Try ClickFunnels for creating simple, yet functional landing pages and funnels.
2 – Activate Your Customers to Generate Leads for You

Your happy customers are your ultimate marketers. And the happier they are, the more willing they are to help generate leads for your business.
Customer satisfaction leads to customer reviews. Which will, in turn, create your company's reputation.
Potential customers researching your page may read these reviews before they consider you further.
Create a system of gathering customer reviews from all of your customers. Monitor your online reputation across the web and social media platforms.
Do not be afraid of constructive criticism. Studies show that negative feedback by itself will not hurt you. It is your response (or lack of it) that creates the impression.
Always respond to negative comments, as it will tell the customer how you handle this feedback. You can show them that you will do so constructively and precisely, regardless of the review being negative.
It also shows that you are reading these comments and that you care about what consumers are saying about your product or services.

3 – Engage Your Social Media Fans To Turn Them Into Leads
Social Media can be a great source of leads for your business.
Everyone is on social media, and the chances are high that your customers are as well.
In fact, for many businesses, Social Media is one of THE top channels for generating leads. The secret is in using it effectively:
A) Learn what platforms are best for your business: Facebook and Instagram are best for eCommerce and Local Businesses. Facebook, Twitter, and LinkedIn are more natural choices for B2B.
B) Lean into your strengths: you may be a natural on camera, so the live video may be your secret weapon. If you prefer to write, invest time into blogging. If you are just starting, learn to curate interesting content.
C) Engage with your audience: Social Media is all about the dialog: Be conversational in your posts. Ask open-ended questions. Respond to comments.
4 – Leverage Smart Email Marketing
While it is one of the oldest digital marketing tactics, email marketing is just as powerful as ever.
It can help you reach existing customers or follow up with new leads. It goes beyond simple newsletters or providing updates on your products.

ConvertKit is one of our favorite tools for creating smart marketing sequences. (Some people also like MailChimp, Hubspot, or ActiveCampaign).
Try ConvertKit for FREE – click Here to Sign up
It allows targeting specific customer segments with specific messages, creating smart follow-up sequences linked to the opt-in forms.
In essence, it helps you build a self-updating CRM where you track customer interests so you can send them a follow-up mail with a call-to-action based on their preferences.
Offer "lead magnets" (aka valuable downloads) in exchange for an email address.
But do not spam people. Hint: 38-email sequences rarely convince people to buy. Keep your emails short, yet informative and filled with valuable information.
Only give the consumer what they need; they shouldn't receive anything more or less. Otherwise, you'll lose their attention and not get your message across.
Limit the number of promotional emails, make them clear and concise. Let people know exactly how to get their discount.
Your customers are busy people. By keeping it short and sweet, you're showing them that you value their time.
5 – Establish Thought Leadership via Content Marketing

One of the first steps in generating leads is to produce content.
Surveys have shown that 96 percent of the B2B buyers want input from the industry thought leaders.
47 percent of buyers go through 3 to 5 pieces of content before they make a purchase.
Many of our customers first engaged with us via our content – they find value in the blog. Apply steps we share in our download and then reach out to us for help with taking their marketing to the next level.
You, too, can increase the number of leads by sharing more of your domain expertise and your thought on the subject matter.

Successful Content Strategy starts with understanding the main problems your customers are facing. Posting blogs, news articles, and even little tips relevant to these problems give people a preview of your unique talents and approaches.
You can also give them simple tools and processes (aka lead magnets) to solve these problems. Keep these lead magnets simple (1-5 pages max with simple, repeatable, easy to implement steps, focused on one problem at a time) and offer them as downloads from your website.
And there is no point in making great content if people cannot find it.
This makes SEO an important part of your content marketing. To generate high-quality leads, you need to spend time making your content search-engine friendly.
Also learn how to repurpose and promote your content on social media, through emails, and elsewhere too.
6 – Use Paid Advertising For Generating Leads
Social media can be a great way to generate leads. But the days of huge organic reach are gone.
If you are serious about reaching larger audiences (and converting them to customers), just putting in time and effort is no longer enough.
To target the right audience and also to increase the reach on social media, paid ads are the best way to go. All of the major social media platforms offer paid ads.
You can run ads on Facebook, Twitter, Instagram, LinkedIn, and also Pinterest.
Since Facebook has the largest user base, a significant number of marketers use Facebook to run paid ads and generate leads. People can see and explore the content behind the ads without even having to leave Facebook.
Instagram Stories are one of the hottest ads around. Even the simplest Instagram Story ads can generate low-cost, high-quality traffic to your website.
Some of the latest A/B tests we are running prove that Insta Stories can deliver 60% lower conversion costs.
Lead ads are also a great form of paid Facebook advertising. Facebook provides a more seamless experience via lead ads, but do monitor the quality of the leads coming through the lead ads. An easy opt-in process frequently translates into a low purchase commitment.
Thanks to the latest Google Redesign, YouTube ads (especially, when combined with custom Retargeting on Facebook and Google) are also incredibly effective.
Messenger Bot Ads are growing in popularity. We have tried them with mixed results. These either work great or do not work at all. In our experience, they generate some initial buzz, but the conversions are not that high. Test them to find out if these are right for you.
That said, think beyond the generic "Subscribe to Our Newsletter" or "Limited Time Offer – 20% Off Your First Purchase!" calls to action.
Make your ads visually appealing, relevant to the specific users and their stage of the funnel.
Small things (like the campaign type, asset type, placements) also make a huge impact on the success of your campaign.
7 – Leverage SEO for organic lead generation.
Organic search is one of the most valuable strategies for generating long-term leads.
With over 200 factors that influence the rank on search engine pages, tackling all of them is an over-kill.
Focus on the areas that will deliver the best results for you:
Local SEO is quite important for businesses with a physical presence. Most people will search for businesses that are close by.
Since mobile searches are dominant, local SEO can get more people in your brick-and-mortar store (Bonus point: make your website mobile-friendly)
Ensure that your name, address, and phone number are accurate on all listings, such as Google Maps, Yelp, Facebook, and so on.
Reviews from users on Social Media platforms and Local Niche sites (such as Nextdoor) also increase your chances of being found.
Finally, ensure that the title tag of your page includes your primary keyword.
Conclusion
There are several strategies you can try for lead generation. Take one strategy at a time, master it and measure its effectiveness. Keep experimenting with new strategies and see what works the best for you.
Your goal is NOT to make all of them work, but rather find ONE strategy that will consistently deliver results.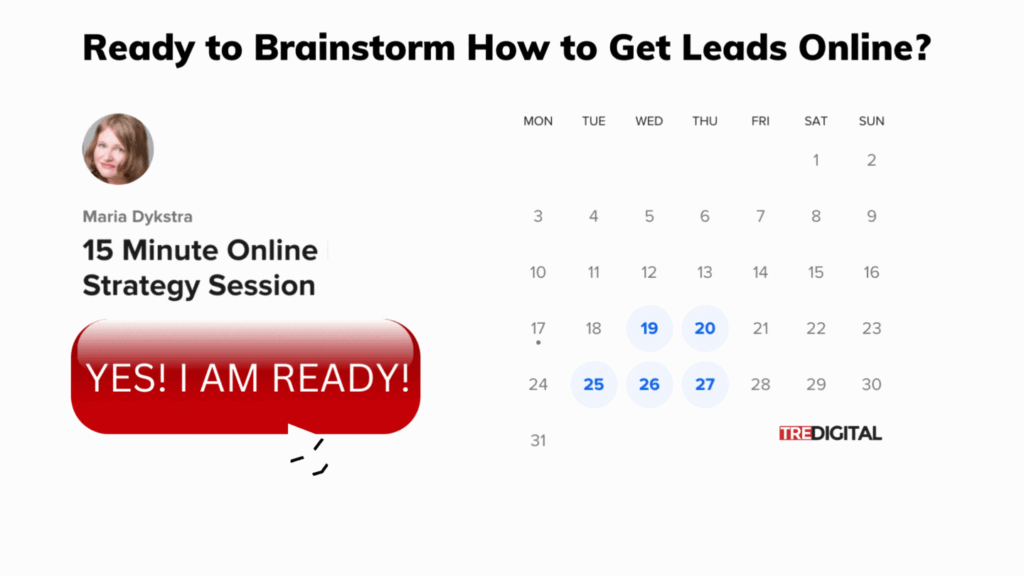 ---
Some of the links above are affiliate links, which means that if you choose to make a purchase, we will earn a commission. This commission comes at no additional cost to you. Please understand that we have experience with all of these companies, and we recommend them because they are helpful and useful, not because of the small commissions we make if you decide to buy something. Please do not spend any money on these products unless you feel you need them or that they will help you achieve your goals.