A leader of a fast-growing tech company asked me: how do I turn my blog into a powerful content machine?
The answer is simple:
Create a content strategy that will help you plan, write and promote your content.
The popular belief is that the content strategy is too difficult to create. Or that content does not work any more.
While it does take time upfront, a streamlined content strategy will help your content deliver results.
B2B Content Marketing used to be easy.
Since very few businesses created online content, all you needed was a simple blog. Voila – you are an instant influencer in your industry!
Now everyone has a blog. They actively create content and share it on social media. Your content is competing with millions of other blogs published daily.
What do you do?
First, embrace the fact that while content creation may be art, content marketing is science.
If you want your B2B content to deliver results and elevate your influencer status, focus on more than just writing.
Plan Your Content Strategy
Maintaining a regular blog is challenging. Finding time to actually plan content is even harder.
That is why many B2B influencers tend to skip this stage and go straight to writing.
But if you skip planning, you run a risk of missing the topics your audience really cares about.
Result?
You may create a lot of content, but it may not help you achieve results in the end.
Step 1: Brainstorm Content Topics and Identify Questions Your Market Cares About
If you are like many successful leaders, your head is spinning from exciting content ideas.
TIP # 1: Get these ideas out of your head on paper (of a digital medium of your choice – I use Google Drive and Trello).
As you come up with the initial list of ideas, start assigning categories to it. While there are endless ways to categorize your content, keep them simple (especially, at the beginning).
Categorize your content by one of these 3 ways:
1 – Audience/Customer Groups: (Example: B2B Executives – Big Data; B2B Executives – IT Consulting)
2 – Areas of Expertise: (Example: Social Media, Content, PR)
3 – Specific Interests/Niches: (Example: B2B Influencer Marketing, Lead Generation, Maximizing Events)
Now that you have your initial list of topics, supplement them with trending topics and keywords.
You can find top keywords and top-performing blogs by doing a simple Google Search.
For example, if you want to write about Social Media for promoting events, start by typing the term "social media for events" in the Google Search bar.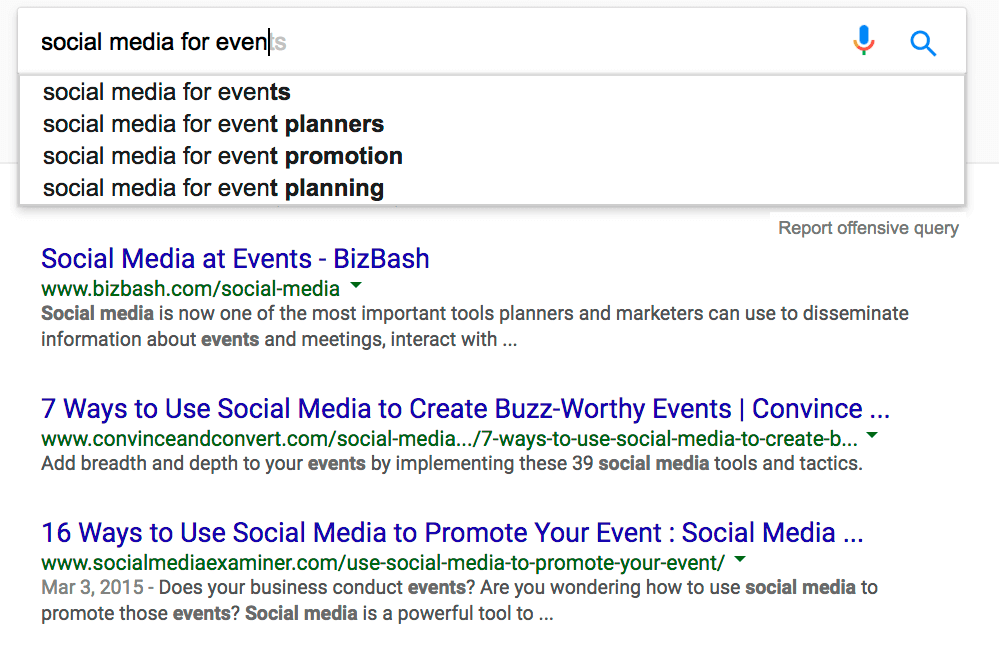 Take note of all keyword variations. Also, note the blogs appearing at the top of the search list. You will use them later as third-party references in your blogs.
Your next step is to validate and identify your focus keywords.
Go to Google Keyword Planner for keyword validation. You will have to create an AdWords account if you do not already have it.
Run each of the keywords through Google Keyword planner. Specifically pay attention to the additional Keyword ideas.
What you are looking for are the keywords and keyword phrases with large monthly search volumes, but low or medium competition. Make them your focus keywords for all content you create in the future.
Since the ultimate goal of your content is to rank on the first page of Google, choosing lower competition words makes your goal more achievable.
Your next research stop is Niche Networks.
Quora and Reddit have wealth of information on top questions in your industry. Use your focus keywords to discover additional topics for your blog.
Step 2: Organize and Prioritize Your Content
At this stage, you will likely have a long list of topics and keywords. While it may be tempting to start writing now, you are not quite ready.
Take the disjointed list of ideas and turn it into a powerful content strategy. But before you move forward, you will need to take a step back.
Identify your content goals.
Do you know what your goals are?
Besides simply generating leads and traffic, what else do you want your content to do for you?
1 – Position You as the Go-To Brand for a Specific Audience: If you want to be known as the go-to brand for a specific audience (e.g. B2B Executive), then sort all of your content ideas by that audience.
2 – Be Known as a Guru on one of the key topics: If you are looking to establish yourself as the guru on a certain area of expertise (e.g. B2B Social Media), then sort your ideas by the area of expertise.
3 – Build your Influence in a particular industry: If your goal is to become the go-to person for a particular interest (e.g. topics related to success B2B marketing), then sort your topics by that interest.
Once you have sorted all of your content look for 2 groups of content with 4-6 topics each. You may need to combine some of the topics.
Group 1 – high-level overview of the topics
The overview content group will cover industry trends and direction – it will help position you as an industry influencer in general.
Group 2 – tactical details for each of these topics.
The tactical content group of content will provide detailed"How to's" – it will establish you as a deeply knowledgable expert on a topic.
Create Your Content
Now that you have carefully planned the foundation for your content strategy, you can move to creating content.
Blog format plays a critical role in your success. Structure your blog both for optimal reading experience and for generating leads.
Step 3: Format and Write your First Blog
You can start with either a high-level topic or a tactical topic.
Begin by creating an outline of your blog. Some of the typical parts to include in your outline.
Blog Headline – 8 out of 10 people will read your headline, but only 2 will read your content. Spend time on creating powerful headlines. Make sure to integrate your keyword phrase into your headline.
Featured Image – Always include at least one compelling image to support your blog. Ideally, insert 4-5 supporting images throughout your blog.
Introduction – Next to the headline, the Introduction is the second most important part of your blog. The majority of readers will only spend 4 seconds on your blog. If you fail to pique their curiosity, they may never get to the main part of your amazing content.
The main part of your blog – This is your opportunity to showcase your unique thought leadership and expertise. To create a successful, high-ranking blog create a comprehensive guide into your main topic. Include at least 5 key ideas and strengthen them via 3rd party research, sound bytes, and compelling headers.
Headers and Sub-headers – People do not read online content, they skim. Breaking down your paragraphs with headers and sub-headers helps readers better navigate your content.
Third-Party Links – Support your statements with research and links to other influencers who are covering similar topics. It earns you instant credibility with the readers.
Quotable Sound bites – Emphasize your key points by adding a quotable sound bit. These are short sentences rephrasing some of the things you already said in 120 characters or less (i.e. Twitter-ready format). Add plug-ins that help highlight content
Conclusion – Summarize your key points and ideas in the conclusion.
Call to Action – Close your blog with a specific Call to Action. Your call to action will either be an invitation to a FREE offer (FREE trial of your software) or an invitation to download a FREE piece of content (Lead Magnet).
Once your outline is ready, create your first content draft. The first version of your blog will be fairly rough. Just like in the brainstorming phase, the point is to get your thoughts out of your head.
Write for 30-40 minutes, then step away from your computer. Only after you finished your initial draft, start editing it.
Below are the editorial guidelines we use for our own blogs – I first learned these by writing for some of the top online publications. These have now become editorial guidelines for everything we write.
Keywords and Keyword Phrases – Do not insert random keywords throughout your copy. Focus on a particular topic, refer to the initial list of keywords. Include related phrases when makes sense. Do not forget keywords in the image captions.
Write Longer Copy – If you want your content to be shared on social, think about writing a longer copy (at least 1,000-1,200 words). Ideally, 1,600-1,800 words – Some marketers even suggest writing copies over 3,000 words. The trick is to be consistent and deliver value.
Quality of Content – In addition to fierce competition, there are also AI algorithms analyzing every piece of content on the web. These algorithms are elevating the importance of quality content. Google uses RankBrain to rank all content based on quality and contextual relevance.
Shorter Sentences and Paragraphs – Make it easy for the readers to consume your content. Write in shorter sentences. Break content down into individual paragraphs. Use bullets and numbered lists. Tools like Hemingway and Grammarly improve the quality of your writing.
If writing long-form blogs is not your thing, focus on video.
Step 4: Create Content Asset Map for each Content Group
Successful thought leaders are known for deep subject matter expertise and thinking on a specific topic.
Creating quality is your first step in establishing thought leadership. But it is not your final step.
If your goal is to use your content to establish thought leadership, start creating additional types of content for each of your content groups.
For each of the content groups you identified in the previous step, you can create several standalone content types:
Blogs: 4-6 individual pieces of content. Blogs will be a part of your website. They will serve as an initial trust-building and educational piece highlighting and showcasing your expertise.
Case Study: a quick demonstration of the work you do with real-life examples and outcomes. These typically have very specific data points and wins.
Webinar: a 30-40 minute in-depth look into one of your subject areas. It can be a live or an evergreen one(i.e. recorded and replayed vs. live).
Podcast: a 20-30 minute in-depth look into one of your subject areas.
Signature Talk/Slide deck: you can re-use your webinar slides and release them to the public with minor modifications.
Email course: a 5-7 day campaign teaching a very specific skills delivered via email.
Video series: 2-5 min video segment for each of the core points.
An ebook: an in-depth overview of a specific topic delivered in a PDF format.
Social Media Posts: each blog can be broken down into 10-20 standalone ideas. Each of these can be used for social media posts. You can also break down each of your content types into individual social media posts.
Each of these additional content types will play a big role in your content funnel. These will serve as a Lead Magnet to use in your Content Funnel.
You do not have to create every single asset type for each of your content groups. Rather determine which 3-4 additional types of content you can create for each of your content groups.
If this is your first experience creating a content strategy, focus on types of content that are easier for your to create (checklists, templates, ebooks). As you gain experience, you will start creating more advanced types of content (webinars, podcasts, white papers).
Promote Your Content
Many businesses invest significant time and money to create content, but completely ignore content promotion.
Failing to promote your content is like inviting the latest rock star to perform at your event, but then forgetting to tell everyone about it.
A few people may still show up, but you will likely miss the majority of your fans.
Step 5: Comprehensive B2B Content Promo Strategy for Social Media
Social Media is a tremendous platform for sharing your content with a broad audience. Unfortunately, most businesses stop after sharing each blog on social media once or twice.
Your first step is to identify a mix of content you will be sharing.
At the beginning of your content marketing journey, you will have fewer pieces of the original content. Yet, you will need to share content consistently. To create consistency on social media, you will be curating content.
You can start with 60:30:10 curated mix for your social media posts.
60% of social media posts will come from other thought leaders in the industry (i.e. curated content).
30% of social media posts will be your original content (i.e. created content: your blogs and other pieces of content you create).
10% of social media posts will be promotional content.
Once you build out a significant body of content you will flip the 60:30:10 created mix to focus on your original content
60% of social media posts will be your original content (i.e. created content: your blogs and other pieces of content you create).
30% of social media posts will come from other thought leaders in the industry (i.e. curated content).
10% of social media posts will be promotional content.
You will notice that you are now sharing more of your own content, but the number of promotional posts remained at 10%.
Social Media is not designed for direct sale. Rather it is a tool that will get your audience's attention, entice them to click on your site, and then builds a relationship via a content funnel.
When drafting non-promotional social media posts avoid "check out my latest blog" post. Instead share quotes, interesting facts, statistics, images with captions from your blogs.
For promotional posts, always focus on the outcomes first. Help your readers understand the value you bring to them.
Once you have an idea of the type and frequency of your content, you can set up your social media sharing schedule.
You do not have to be present on every single social media platform. Instead, create a calendar that covers 2-3 main platforms (Facebook, Twitter, LinkedIn) and 1-2 niche platforms (Quora and Reddit). Publish on main platforms at least 5 days a week and on niche platforms at least once a week.
Have a strategy for Niche Micro-Communities and Groups. LinkedIn and Facebook groups are particularly effective for getting visibility for your content. Interact with others in the group and post at least once a week. If you are new to the group, learn the rules first to avoid being overly promotional.
Step 6: Create your First Content Funnel
Do not expect your readers to immediately sign up for your $10,000 product offering. You will need to build relationships and create trust first.
If you are serious about building audience and making money with your content you must create a content funnel.
At the top level, each of your content funnels will have:
Lead Magnet: An irresistible piece of content, typically FREE and offered in exchange for an email or other lead information. Many B2B marketers are shifting to "no-gate" content, i.e. they do not collect an upfront lead. They gradually lead their audience through different content pieces to build trust first.
There are two main types of lead magnets:
Intro Lead Magnet: a checklist, a template, a PDF download of your blog.
Comprehensive Lead Magnet: an ebook, a webinar, an email course.
If this is your first time building the content strategy, start with an Intro lead magnet.
Once you confirm that the topic is of interest to your audience, develop a Comprehensive Lead Magnet. No need to invest time into a ebook, if you are not sure it will resonate with your audience.
Tripwire: A low-cost offer (or FREE trial) offered as a first incentive to the new clients. The offer must be meaningful and compelling. For example, offering a 7-day FREE trial when it takes 4 days to configure your product will not work.
Core Offer: your main high ticket product or services. It is the bread and butter of your business.
Your readers will start interacting with your content via a Lead Magnet. You will then continue to build relationships either via email or the next level of the lead magnet (if you chose a non-gated content option).
No matter what type of funnel you run, an email will be the most effective way of building relationships with your audience.
Make sure to set up an email nurturing campaign. A personalized email campaign works best, but you should also share your latest contest via a broad email reaching all of your subscribers.
Webinar Funnel is one of the most effective B2B Content Marketing and Influencer Funnels.
Webinars work well to build trust with your prospects. If you deliver significant value during your webinar, you can bypass the tripwire and present the core offer. The secret of a successful webinar is in keeping the audience engaged until the very end.
Step 7: Put your Content Machine on Autopilot
Automation is a big part of your content promotion strategy. Luckily, there are a few tools that can help you set your promotion on autopilot.
Social Media Automation
Buffer and Hootsuite are great scheduling tools for the beginners. Both have free options.
Hootsuite offers a Bulk Upload functionality. You can write all of your social media posts at the time of creating your content and then schedule these via Bulk Upload. If you choose the Auto schedule option, Hootsuite will choose the best publishing time for your posts.
Another strategy is sharing your posts more than once. This works especially well on Twitter, where you can share the same posts more once. Recurpost is one of several tools that allows you to recycle content.
Email Drip Campaign
Connect your Lead Magnets to an automated email drip campaign. ConvertKit is an excellent tool that provides you with everything you need to create your first automated email sequence.
Once your reader downloads your lead magnet, follow up with a welcome email and then lead your content funnel. ConvertKit provides you with an easy user interface to configure a personalized email experience for your readers.
If you are developing a more comprehensive content approach for your company and multiple stakeholders, look for more sophisticated solutions like Hubspot.
Evergreen Webinar
Webinars are a powerful tool to engage your audience. The challenge with live webinars is scale. They take time to produce and set up. Automating Webinars is a great solution for your business. EasyWebinar allows you to fully automate pre-recorded webinars streaming at a scheduled time.
If you looking for an option to scale while still integrating the live option, you can opt for a hybrid option. The webinar portion will be pre-recorded, while you can participate in a Q&A session live.
CONCULUSION
Content Marketing is one of the top marketing strategies for B2B Companies and Influencers. While you may get away with a simple curation the beginning, a comprehensive B2B Content Strategy will position you as an Influencer and bring you results in the end.