Are you wondering how to grow your YouTube channel? Are you recording videos regularly and would like to see more YouTube subscribers? Learn the step-by-step formula for growing your YouTube channel and engagement.
It is not just enough to have a YouTube channel or post new videos to it; you need to ensure that you grow your Youtube channel and have lots of followers and subscribers.
The more subscribers you have the more people you can reach and the more money you can make. Even experienced YouTubers are still looking for new ways to grow their YouTube channels fast. They still have a problem getting their audience to keep watching.
What factors impact the success of your YouTube channel growth?
There is a lot of information on how to start and grow a YouTube channel. The most important thing to know is that there are 4 critical factors to keep in mind while scripting, editing, and promoting your videos.
Number of Clicks

The more people click on your video, the better your ranking is. Thumbnail is the first thing that any person will see when they look at your video. This will determine whether a viewer will click to see the video or ignore it completely. You can either let YouTube generate one for you or better yet, create your Thumbnail. More on that later.
Retention

Studies show that most people stop watching after 15 seconds. Keep the first 15 seconds interesting to keep your viewers watching the video as long as possible. If you can manage to keep the viewers watching at least 50% of your videos, you will have a higher ranking.
Engagement 

Clicks, likes, shares, comments are all signals that people like your videos. Integrate frequent invitations to engage with your video by sharing or leaving a comment throughout your video. Use build-in YouTube cards (like end cards) to create a conversation.
Promotion

Knowing how to promote your YouTube channel will lead to getting more collaborators and other partners as well others sharing your content. Later in the article, I'll cover a few promotion best practices to keep in mind.



Your YouTube Channel Profile Setup Best Practices
One secret to starting a successful YouTube channel is ensuring that you have a proper setup. This will make it easier for your viewers to find you and also bring new viewership and followers.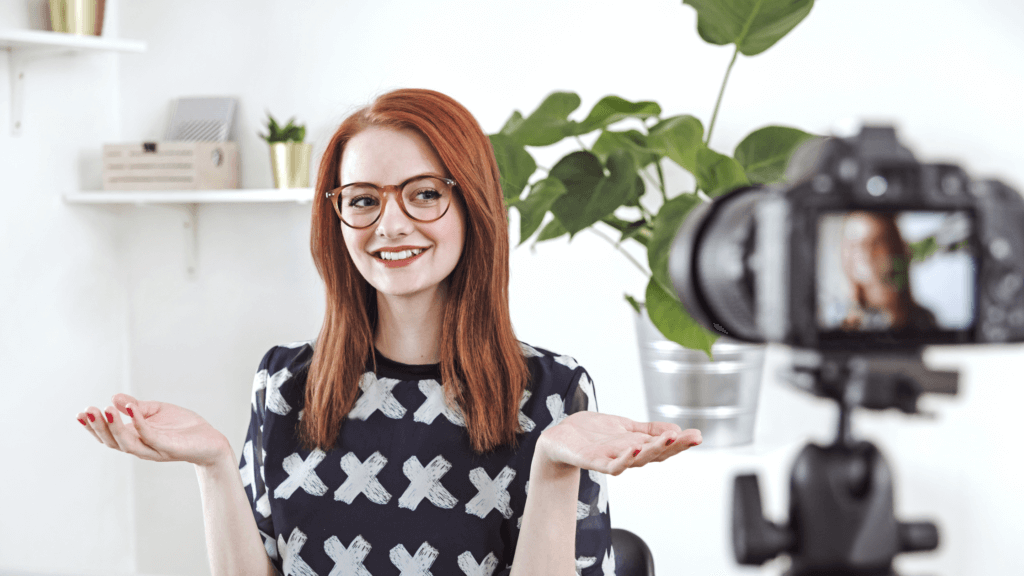 Here are some ways to improve your setup:
Use a Compelling Header: Make sure you use a compelling channel header that reflects the purpose of your channel.
Add a good profile photo. This can either be the logo of your channel or your headshot.
Use keywords in the first sentence of your channel description (more on the keyword research later).
Connect YouTube channel with other social profiles.
Create an About tab with the description of your videos. Here you can identify who you are making the video for and what types of video you create to attract the right audience. You can also add how often you publish the videos so that your viewers can come back to watch.
Create a lead magnet like a downloadable guide you can use as a Call to Action for your YouTube videos.
Make a description video for your channel trailer. It helps the viewers get to know more about you. The purpose of your trailer video is to pique viewers' interest and encourage them to subscribe. Add a "subscribe now" call to action no later than 120 seconds into the trailer. 



Organizing Channel and Channel Page (Playlist and Sections)
Utilizing sections and organizing YouTube videos into playlists ensures that your content is not buried on your channel.
Plan these strategically to create a strong organization and drive engagement. YouTube allows up to 10 Custom Sections for your channel organization. The following is the recommended organization order:
Trailer or Your Channel Trailer.
Uploads Or "New" or "Watch This First". You can show your latest videos in chronological order.
Playlists.


There are two key ways to organize playlists:
Key Topics/Main Keywords. For example, you can group all videos on meditation in the same playlist
Benefits/Outcomes that viewers want. For example, you can put all videos that teach how to live a
stress-free life.


The benefit of the Playlist is that they automatically play the next video for the viewers. This means that you keep the viewers on your channel longer.

How to Grow Traffic to Your YouTube channel?
In addition to the 4 critical factors that will impact the growth of your YouTube channel, you also need to create a keyword strategy.
Keywords are critically important.
Do your research to find the right ones to rank for and create a content strategy around these. Strategically integrate keywords into your video scrips, descriptions, tags, and more.
Here are the levels of keywords that will help you how to grow YouTube channels subscribers:
Level 1 (High-level keyword): e.g. Meditation; Clairvoyance, Healing
Level 2 (next level of details, based on popular searches on YouTube): Meditation for Sleep, Meditation to Relax Mind and Body, Meditation for Positive Energy, Meditation for Anxiety
Level 3 (long-tail keywords): 3 Meditation for Anxiety Techniques You can try anywhere.
Create a mix of videos that focuses on different keywords and also focuses on different levels of keywords.
It is important to look at your keywords' quality rather than the quantity. Do not "stuff" keywords into your content if they do not fit there logically.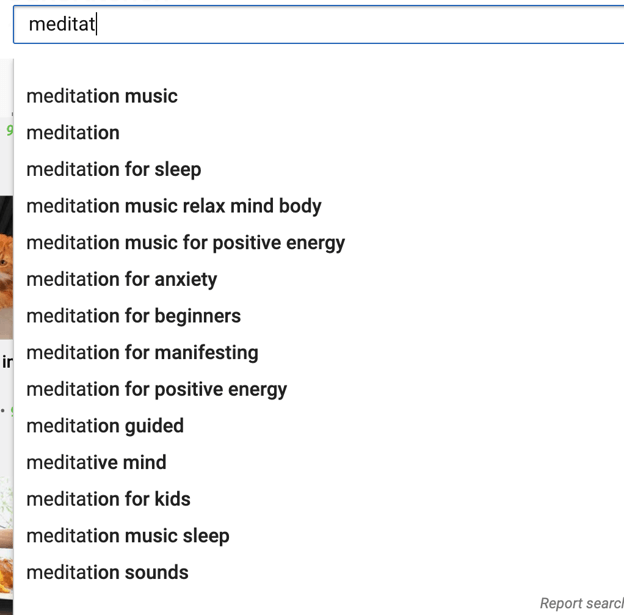 YouTube puts a lot of stress on the keywords in the titles, thumbnails, and snippets. They drive 80% of the viewer clicks. This is why the Thumbnail must be simple and eye-catching. You can use thumbnail templates to create custom thumbnails that look different from the rest of the competition.
Add color to differentiate from others.
To keep your content organized start by creating 10-20 video titles with different keywords at various keyword levels. Then draft similar but different ideas for your Custom Thumbnails.
Your video title has to help with the clicks and viewer retention.
Best practice: start with the script for Thumbnails and Titles before starting the actual script for the video.
The title must have a "Hook" to build curiosity and be emotionally compelling. Preferably use your main keyword at the beginning. Ensure that the hook is related to the title and the Thumbnail, and the title complements the video and does NOT repeat the video title.
Do not create the Thumbnail in full screen – it must be done in the specific thumbnail size (280×720).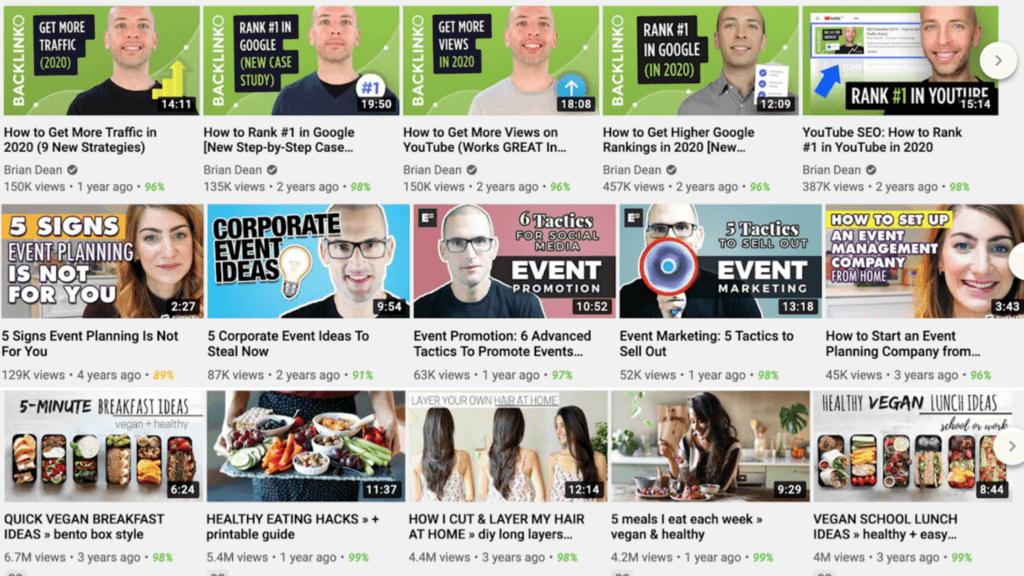 How to Write a Successful YouTube Script and Show
There is a specific formula that you can follow with your YouTube script.
Do not be boring. Content must visually engage, so, change camera angles, add b-roll, simple visual effects – aka fun/funny visual & audio "interruptions" related to the story.
Cut out the "fluff" and get straight to the point. Studies show that if you really "hooked" the person within the first 15 seconds, then you hooked them for good. If not, most people will drop off within the first 30 seconds.
Weave in a story into the main content, especially if it highlights your expertise or experience or a case study.
Say your main keywords in the video a few times. Google and YouTube can now listen to your videos, even without a transcript.
Remember – you want to get comments for a better ranking. Therefore, ask people multiple-choice questions or invite them to comment.
Drop lead magnets within 2 minutes. Invite fans to download it. Do say, "Click the link below to download the specific template, gift, etc".
Invite people to Like, Comment, Share, Subscribe by asking an open-ended question: "which of these strategies are YOU going to use today? Comment below" OR "If you watch this video about x, you will benefit from my video about y that is coming next".
Pro Tip: There are two main problems with scripts (over scripting and under scripting): Best scripts include detailed outlines, key points to highlight, video/audio cues to consider, and all of the hooks. Scripting every word and using a teleprompter may make you sound unnatural and awkward.

Prepping your YouTube videos for Editing
The real secret to a great YouTube video is great editing. This will help if you want to know how to get more views on YouTube. Typically, we recommend keeping the camera running even if you mess up. Just stop and say the same thing again (do not start from the beginning).
In our experience, raw footage for a video is typically 1.5-2 times longer than the final video. The simple editing process can:
Cut out all of the mistakes in the video. For extra fun, you can include "bloopers" at the end of your main video.
Integrate the visual and audio "interruptions", graphics and b-roll. This breaks the monotony of the "talking head" video and turns a boring topic into a lighter/more entertaining one (i.e., increasing the total watch time that YouTube loves so much). Avoid overusing fancy graphics. Keep these natural and consistent with your style/topic.
Add more engagement "hooks" (different introductions, topic cards, key points, end screens, Calls To Action) 
Add Logo overlays throughout the video for branding.



YouTube Content Upload and Optimization
Now that you found the right keywords and created the perfect YouTube video, it is time to optimize your content.
The file itself must be optimized (i.e. change the file name to match the title of your video, add comments to the source file and description of your video via "get info" of the video file and tags).
Add a 200–300-word description to your video. Make sure that the first 1-2 sentences include your target keywords, reiterate the video's title, and be emotionally compelling to increase keyword saturation.
Add a lead magnet towards the top with the next steps for the viewers to take. Be specific.
Include hashtags and keyword-rich tags. Always use your main keyword as the first tag for the video.
Always add an end screen and optimize it for subscribers. Place it in the last 20 seconds. You can add an end screen through Create Studio and use a big SUBSCRIBE button on your end screen.
Add 2 – 3 Cards with relevant materials. For example, highlight other videos on relevant topics.
Transcribe videos and add subtitles. Studies show that many viewers watch videos with sound off. Subtitles and transcripts help increase the viewership
Add annotations to the videos inviting people to "like, comment, subscribe" throughout the video.
Reply to all comments within 24-48 hours of videos going live. 


Video tags are not as important as keywords, but you should still use them. Keep your videos private, NOT unlisted until they are optimized and ready to publish.
Focus on "Watch" or "Session" time (different from audience retention watch time) – it is the time spent by the user on the platform overall. Strategically include the logically relevant "Next video" in your end screen to keep people watching more than one video on your channel.

How to Create a Successful YouTube Promo Strategy?
What happens in the first 24-48 hours after you publish the video will determine the overall success of growing your YouTube channel. Plan several promotional activities to increase clicks, engagement, and viewership. Here are some of the specific things you can do:
Announce the video launch on all social media platforms, send an email to your subscribers with a quick summary and invitation to watch on your channel or run ads
Create 30-60 second trailers and add an end card: "Watch the full video on YouTube"; Run a FB/Instagram promotion with the Call to Action to the channel/video.
Add a trailer to your blogs and align with social media and PR promotions.
Repurpose it for other mediums converting in the right format: Instagram Story or Reels + IGTV, YouTube Shorts, Facebook Feed Premier, etc.
Use Creator Studio Traffic Sources and Audience Retention Report to analyze where traffic is coming from and where the audience drop-off happens. Modify your future scripts to add more engagement hooks around the drop-off times.
With many people asking how to make money on YouTube, it has become crucial to learn how to grow and be successful.