This is a guest post by 

Marcus Jensen
There is very little point in trying to be on every social media platform. In fact, you might actually be hurting your brand by having your people (or you yourself) try every social media under the sun.
Choosing the social media channel to dedicate your efforts to will (or at least should) be something you to take time with and not to rush.
Today, we will be looking at the different ways certain brands successfully engage their customers on Twitter and also share a few reasons as to why some brands prefer to do their social on Twitter.
The Case for Twitter
In fact, why not start with the appeal of Twitter, a social media platform that has been having something of a crisis of identity ever since it came to life, but which has also given the world innumerable acronyms and some truly historic social media moments?
The cornerstone of Twitter's appeal is its simplicity – you get 140 characters to say what you have and explain yourself to people who interact with your brand. Nowadays you can also attach images and video, but at its very core, Twitter is an exercise in simplicity and elegance.
Perhaps it is because of this simplicity that Twitter is a social media channel that you will see being used by B2B companies and other businesses that wish to get to the point and get a very clear message across as clearly as possible. With some microblogging tools, it gets even simpler. It also makes for a fantastic place to do some customer service (or fail to do it).
Another selling point of Twitter is its instantaneousness. This is not saying that Facebook or Instagram cannot paint a picture of a certain moment in time, but Twitter does it the best. In fact, due to its newsy character, some theorists say that it has become a media company more than anything else.
Finally, Twitter has its way with popular culture. It is not something that Twitter does exclusively, but somehow, when you pull of a pop culture reference on Twitter the right way, it is just cool.
All of this sounds too much like theory and it is probably best to show it on examples of brands that know how to do Twitter and who show other brands how it should be done.
Understanding the Internet (and Twitter)
One of the worst things brands do on social media is they see it as nothing more than a place to shout about their ads and promotions. This is not what social media like Twitter was invented for. It was invented for having fun and socializing with people.
A brand that does this better than pretty much everyone else is Innocent Drinks, a healthy juices and smoothies company that was started by three ordinary guys who cashed in when Coca Cola finally bought 90% of their company.
Coca Cola or not, their Twitter feed is an epitome of what a brand should do online. They share a bit about their drinks every now and then, but most of the time, it's just fun. Innocent Drinks have a way of finding out new things to do and new ways to approach existing online trends. And it never feels forced.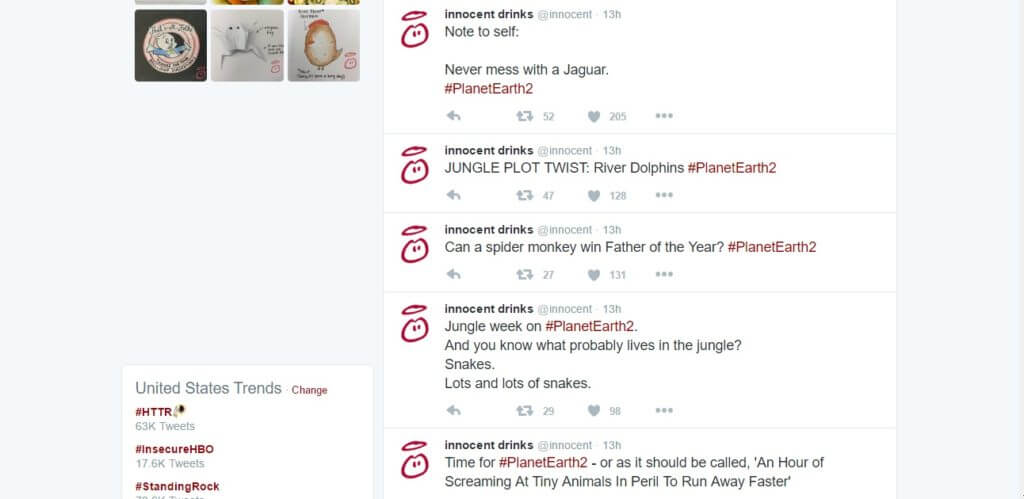 An example of this was the thing they did on November 18th this year (2016), when they dedicated the entire day to #HandmadeTweets. They invited their followers to draw something by hand and send them. They then posted it on their timeline and it was a ton of fun.
Innocent Drinks understands that Twitter is a place to interact with followers and brand consumers, but respectfully, without cramming ads and promotions down their throats 24/7.
Providing Stellar Customer Service
Customer service is one of the cornerstones of business, no matter how you cut it. For many brands, Twitter has turned into another way to help their customers and there are quite a few companies that have set themselves apart from the rest of the pack.
For example, there is the @XboxSupport account which has become legendary and which actually claims to be holder of the Guinness World Record for "most responsive Twitter feed". A quick glance at their feed confirms this. Their replies are minute-in, minute-out.
Airlines are usually maligned for the "experiences" they provide for their customers and it cannot be easy handling customer service for one of the bigger air travel companies. Somehow, the Twitter customer service people from @Delta do a great job fielding complaints and questions. They even find the time to post an interesting Tweet or two every now and then.
BestBuy actually has a couple of Twitter accounts (@twelpforce, @BestBuySupport, @GeekSquad) for handling customer support. Each one of these accounts is active and their customers can rest assured one of them will have the answer they need.
Doing Pop Culture Properly
Doing pop culture is probably the most sensitive of social media practices for brands. It can easily turn out to be unspeakably lame or even offensive. However, when done in the right way, it is both fun and incredibly beneficial for the brand which can get spectacular exposure with the right tweet.
Arby's Twitter account did exactly this when Pharrell walked onto the stage of 2014 Grammy's wearing the now famous hat. Arby's Twitter people noticed the similarity to their logo and they posted the following tweet.
Hey @Pharrell, can we have our hat back? #GRAMMYs

— Arby's (@Arbys) January 27, 2014
Earlier this year, they also got in on the Teenage Mutant sequel bandwagon with this Vine (also, R.I.P. Vine)
Leads. Does machines. Cool but rude. Party dude. https://t.co/vwhSBK9VLY

— Arby's (@Arbys) June 3, 2016
DiGiorno Pizza, a company that sells frozen pizzas also has a great knack for pop culture moments and their Twitter account is far more popular than a company selling frozen pizzas should be. For instance, in 2013, they got in on a live watching of The Sound of Music and they nailed it.
DOUGH a crust an unbaked crust
RAY, a guy that likes pizza
ME a pizza liked by a guy named ray
FAH no idea what fah is
SO so
LA a city
T tee

— DiGiorno (@DiGiorno) December 6, 2013
One of the responses on that tweet even suggested a reward for DiGiorno's marketing/social media "dude".
"@DiGiornoPizza You are a genius for getting in on this action. Give your marketing/social media dude a raise."
Since then, they have been doing amazing things whenever something major is going down.
Being Weird
Another way to go as a brand is to go weird. Twitter people love a bit of weird and it is a great way to engage with them.
MUSCLES. SMELLS. LASERS. COUPONS. GIFS.
The above is the About description that @OldSpice rocks on Twitter. The rest of their Twitter activity is no less weird.
Never skip tongue day pic.twitter.com/39s7o8ZQUV

— Old Spice (@OldSpice) April 12, 2016
Moosejaw Madness sell outdoor equipment and they definitely keep it weird on Twitter.
An Olympic event I wanna see is synchronized "The Floor is Lava."

— Moosejaw (@MoosejawMadness) August 19, 2016
Or
My spirit animal is a donut because, I too, have a gaping emptiness at the center of my being.

— Moosejaw (@MoosejawMadness) July 12, 2016
A brand that is almost forced to be weird is @Charmin who make toilet paper and keep their entire timeline weirdly and almost laudably toilet-oriented.
Iron is great, but we prefer porcelain. #GoTFinale pic.twitter.com/e7oZ8mqziA

— Charmin (@Charmin) June 26, 2016
Instead of a Closing Word
In the end, it is all about keeping it human-oriented. It is about helping one's customers or giving them a much-needed respite from the daily woes that all of us have.
Also, don't be afraid to be weird.
About Marcus Jensen
Marcus is a writer from Australia and the Editor-in- Chief of Technivorz blog. Besides working on Technivorz, his work has been featured on several prominent tech and business editorials.